Your very own 'penthouse'
Are you looking to downsize?
Looking for a low maintenance lifestyle that leaves you more time to do what you love?
Tired of driving? Looking for a prime location with conveniences at your doorstep?
Spence on Light can tick all your boxes.
Located on the top three floors of a recently constructed building in the heart of Adelaide, Spence on Light apartments offer affordable, contemporary city living at its finest.
Leave the bustle behind and enjoy the privacy and security in your own home above the city hum. Take in the magnificent views across the city to the Adelaide Hills or sunset views to St Vincent Gulf from your own balcony with plenty of space for entertaining and relaxing.
Learn more about Adelaide city living.
Everything on your doorstep
Spence on Light is all about city convenience: Close to shopping, cafes, the bustling Central Market, the Adelaide Botanic Garden, and the football at Adelaide Oval. The green open spaces around the River Torrens and Adelaide's famous parklands are only a short stroll away, while reassuringly, the new Royal Adelaide Hospital medical precinct is nearby.
Being the Festival State, Adelaide city offers a wide range of festivities and activities all year round for those who love arts, culture and performances. Think Adelaide Fringe Festival, SALA, Oz Asia Festival and so many more.
Public transport including buses, trains, and trams, together with Adelaide's walkability means you may never need the car again.
Benefits of retirement living at Spence on Light
Offering a variety of spacious and versatile designs, the apartments are modern and feature an abundance of natural light.  Each apartment is well appointed with stainless steel kitchen appliances secure electronic entry and is finished with quality fixtures and fittings.
Located on the top three floors of the Spence on Light building, the apartments provide spectacular panoramic views.
A platinum 'Liveable Housing Design' rating ensures accessibility and green credentials. 
Find out more about liveable Housing Design.
Enjoy peace of mind and let go of the worry of maintenance like cleaning the gutters, painting or working in the garden.  Not to mention the benefit of Council rates, strata fees, water bills and building insurance all covered within your Service Fee.
Plus, your small pet is welcome.
Co-located with affordable and disability accommodation on the levels below, Spence on Light is quickly becoming a vibrant and diverse community of forward thinkers.
With a lively on-site café for all to gather, a resident liaison team to link you with your local community and plenty of activities on offer, you will enjoy strong neighbourly connections.
For more information, download the Spence on Light FAQ sheet.
And rest assured, should you need health and home support, now or in the future, ACH Group will be there to provide information and assistance to link you with appropriate services including a wide range of health and wellbeing, social experiences, and home services to help you live well independently.
Meet Petrie
Petrie has lived and travelled around Australia and overseas much of her life. Petrie was living in Holland before coming back to Australia again a few years ago to be close to her family here again. Petrie had been used to living in big houses with gardens but also in high-rise and apartment buildings in many different cities. She was very pleased to discover a similar apartment lifestyle option for her retirement when coming back to Adelaide.
When she found Spence on Light, she fell in love with everything it offers: the cosmopolitan location, the beautiful sunset views from her balcony, the contemporary design of the apartment and friendly neighbours. Petrie added "I don't like traffic and I am used to good public transport, so this suits my lifestyle and not needing a car. I'm still working for myself and for the University of Adelaide which is at walking distance and the internet connection in the building works well too. As I live on the top floor of Spence on Light, I feel as if I now have my own little penthouse."
Petrie loves having easy access to all Adelaide has to offer culturally, plus social interaction with other residents, but also enjoys her own space. She said "The beauty of living in an apartment is that you can be apart when you want to be. It's so private and yet secure here!"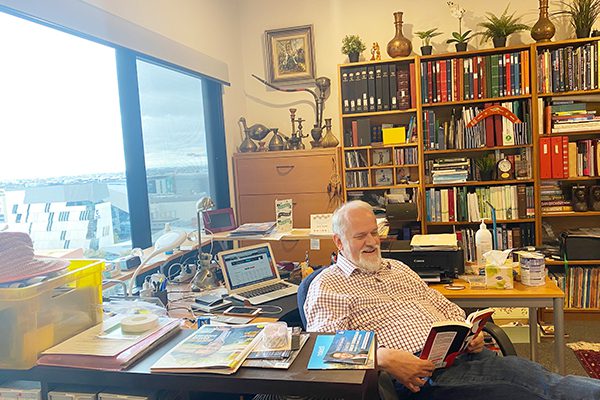 Meet Willem
Willem moved from a four-bedroom house into a vertical retirement living lifestyle apartment at Spence on Light.  He loves the central location and conveniences at his doorstep. Willem said "I have lots of space to store my global collections, for instance, my stamps, paintings, decorations, books and to maintain all of my hobbies and interests. The big balcony is a bonus as it provides a 120° view to the city and the Gulf of St Vincent with many ships coming and going. I wake up to beautiful sunrises and chill out in the evening with a glass of wine watching the beautiful views, ready to capture with my camera.".
Having worked for an international firm all his life, Willem has traveled the world and been exposed to different cultures. He has lived an active and social life full of interaction with others. With vertical living in an apartment building, Willem has found it easier to meet his neighbours as he often runs into them downstairs at the café.
Back when he first moved in, Willem hosted a "Get to know your neighbours" event at his home inviting the other ACH residents over for nibbles and drinks. He mentioned that "Everyone here is friendly and love a good chat but you can also have your privacy whenever you need it."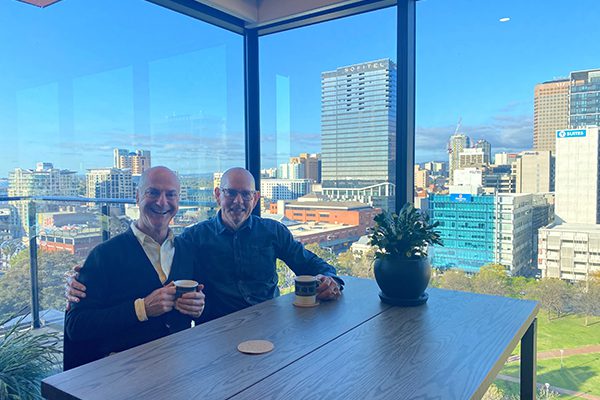 Meet Kenneth and Michael
Meet Kenneth and Michael – new residents at ACH Group's Spence on Light city retirement living offering. They came across Spence on Light on their way back from the gym to their home in Adelaide city and fell instantly in love! A few weeks later, they sold their house, moved into Spence on Light and never looked back. Kenneth and Michael are absolutely enjoying their city retirement living lifestyle and the benefits it brings. Walking and riding around the city is easy with so many conveniences at their doorstep. They also love the mesmerising view from their apartment overlooking the city and the hills. Kenneth shared "We had our friends over for dinner and they were so impressed with the night view. It's like you're dining at a high-end restaurant. It's like you're on holiday every day!"
Michael added "We also love the neighbourhood here. With vertical living, which isn't spread out like in a normal suburban living, you run into your neighbour every day and it's so easy for us to make new friends."
Meet Tony
Meet Tony – who was one of the first residents at ACH Group's Spence on Light retirement living offer. Tony left his career in business, as a musician and film maker, and moved back to Adelaide so he could retire and dedicate this part of his life to painting. He has found inspiration in the nearby parklands and wetland.
Tony enjoys walking through the city and not being in a car in the middle of traffic. From the Central Market with its cosmopolitan vibe and the charm of all the little side streets, to the convenient Asian supermarkets that stay open on Sundays – it's the lifestyle which contributes to his overall sense of home and community.
Tony shared, "I like the urban design, how the apartment is designed for people and not property developers – how living in the city has been considered. The insulation is really efficient." Tony added that living in an apartment where he can watch a sunset every night is just magical.
Take a virtual tour
Imagine sipping your morning coffee on your sunlit balcony as you take in expansive views across Light Square to the Adelaide Hills. This is modern retirement living with city convenience. Take a look for yourself.
More information
Our friendly team are here to help. For all enquiries, contact Denise on 0428 540 999 or email dsmith@ach.org.au. Alternatively, you can fill out the enquiry form below.
Talk to us today to find out why the Spence on Light lifestyle is right for you.