At ACH Group, volunteers have always made up an important part of our community. We are proud to have a huge diversity of volunteers who help with a wide variety of activities including social outings, group activities, driving food preparation in many different roles. Despite the challenging times of the COVID-19 pandemic, our volunteers have always been there to support our vision of good lives for older people. Today on International Volunteer Day 5th December, we want to share a few inspiring volunteer stories that highlight the great work our volunteers do and their contribution over the years.
Peter at the Perry Park men's shed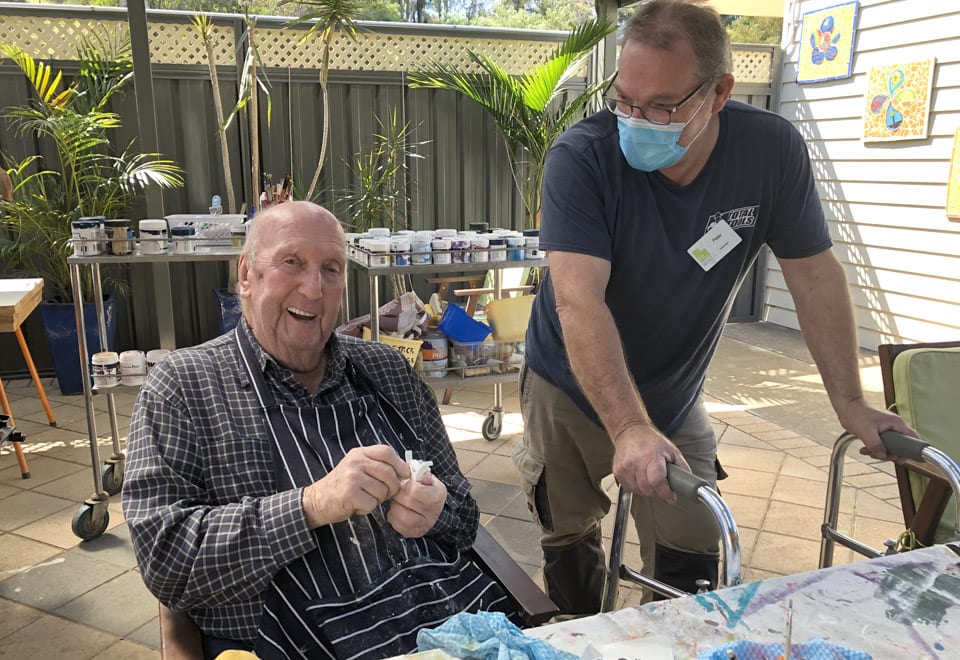 This story is about Peter Marden who has been part of the men's shed at ACH Group's Perry Park residential care home.
The men's shed is a shared space where residents can come and connect, form friendships and remain involved in their community. It was created for residents to meet,learn new skills and continue doing the things they love. The volunteers at the men's shed have played an important part in supporting the group to create wonderful and meaningful wooden pieces such as toys, furniture, and decorations.
Peter has spent most of his time making wooden toys, furniture and runs his own business selling custom-made wooden pieces. He has volunteered at the men's shed since 2019 after being introduced by a friend who worked at ACH Group at the time. Peter wanted to bring his passion for woodworking to share with the residents at the men's shed.
When being asked what the biggest motivation for being a volunteer at the men's shed, Peter shared "It's the people. It's the men that motivates me every time. The best part is seeing the mens' faces when they've made something great. I love helping other people and it brings me joy and satisfaction knowing that I've done something to help others."
Peter loves sharing his days at the men's shed working with the men and sharing stories. "We've all got lots of stories to tell no matter what we're going through. Mac is my favourite. He always has the best stories to tell and Wally comes along and loves chatting with me. We've learned so much from one another."
Nicki helps residents stay connected during COVID-19
This is another story about an amazing volunteer who has gone beyond her usual volunteer role to support residents during the challenging times of COVID-19 this year.
Nicki has been a valued volunteer at ACH Group's Highercombe residential care home for more than 3 years. During COVID-19, visitation to residential care was limited and the Phone Contact program was created to support residents stay connected and engaged. Nicki loved the initiative and has been staying connected with residents through regular phone calls. Social connection plays such an important part of healthy ageing and keeping residents engaged with their community.
"It has been a lot of fun. The residents are really enjoying the contact and we end up talking about issues that you probably wouldn't in a face to face situation!" Nicki shared. She is pictured having a lovely chat with resident Edgar.
If you are keen to become a volunteer with ACH Group, call 1300 22 44 77 or visit our website to learn more: https://achgroup.org.au/work-with-us/volunteers/