You must be living underground (like a quality root vegetable!) if you haven't noticed the rise of the humble vegetable in recent years.
Why are veggies trendy again? Why are we no longer eating 450g T-Bone steaks and instead choosing fire pit pumpkin, roasted eggplant and heirloom tomatoes?
Today trendy restaurants are showing people how to enjoy vegetables and how delicious they can be. Time and care are taken to source the freshest seasonal produce and prepare them in a way that makes them the hero, no longer a humble side. Think you dislike a vegetable? Whether it's spiced, roasted, fried, smoked or puréed, served hot and cold, with sauces, dressing, jus and crumbs, the truth is you can't be sure with the range of offerings that now exist.
With ever-increasing costs associated with doing business, vegetables make managing operational costs achievable. They're more affordable than meat, have a longer shelf life and can be used in a range of ways, resulting in less wastage.
The rise of the environment-conscious consumer has also increased the focus on vegetable use. More people are considering the impact that their food choices are having on the environment, farmers and also animals. We are now aware more than ever before that the precious resources we take for granted on this planet every day are finite and we want to ensure these resources are preserved and available for future generations.
Vegetables have a lower environmental impact than meats and some, such as legumes, positively impact the environment by regenerating the soil they grow in.
Finally, the key reason for vegetables stepping up to the main plate is the new generation of health-conscious consumers and chefs.
The next generation of chefs who value their health and enjoy problem solving and thinking outside the square are excited by the challenge of getting everyday Aussies to eat their veggies again.
Whether the reason is financial, environmental, or health related, the take home message is simple, vegetables are back, baby!
Dukkah roasted pumpkin and zucchini with pomegranate quinoa tabouli and garlic yoghurt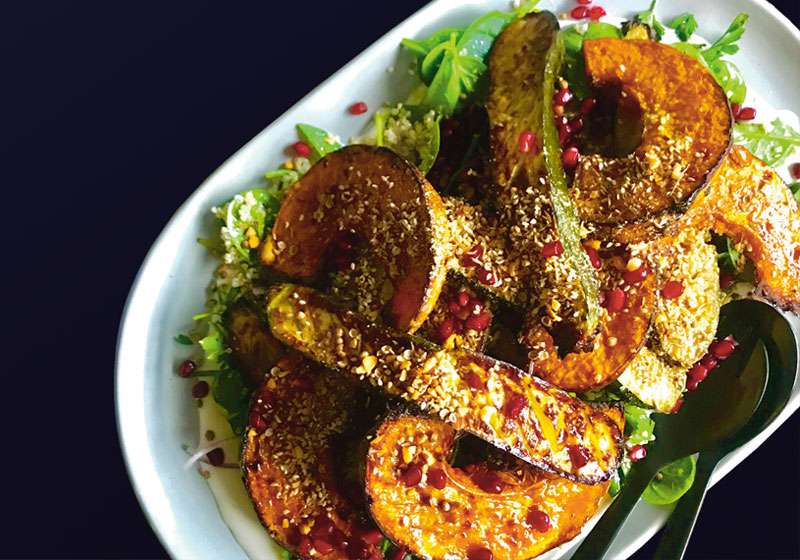 (Serves 4)
Ingredients
¼ jap pumpkin, cut into 2cm thick wedges
4 zucchini, halved and scored
1 tablespoon olive oil, plus 1 tablespoon extra
½ cup quinoa
2 cups baby spinach
1 bunch flat leaf parsley, leaves picked
½ red onion, finely sliced
1 pomegranate, seeds removed
Juice of a lemon
½ cup Greek yoghurt
1 garlic clove, finely grated
Dukkah:
2 tablespoons sesame seeds
2 tablespoons coriander seeds
1 tablespoon cumin seeds
¼ cup toasted almonds
2 teaspoons paprika
Pinch of salt
Method
Preheat oven to 210°C and line a baking tray with baking paper. Toss pumpkin and zucchini with one tablespoon olive oil. Transfer pumpkin to the baking tray and roast for 20 minutes. Add zucchini to the baking tray and roast for a further 10–15 minutes or until golden brown.
To make the dukkah, heat a small frying pan over medium–high heat. Add sesame, coriander and cumin seeds and toast for 1–2 minutes or until fragrant. Place almonds in the bowl of a small food processor and blitz until roughly chopped. Add toasted seeds and blitz until roughly ground. Stir through paprika and salt.
Bring a large saucepan of water to the boil. Boil quinoa for 10–12 minutes or until tender. Drain and set aside.
In a bowl, combine quinoa, baby spinach, parsley, red onion, pomegranate seeds, lemon juice and remaining one tablespoon olive oil.
Combine yoghurt and garlic in a small bowl.
Spread yoghurt onto a serving platter. Top with quinoa tabouli, pumpkin and zucchini, and sprinkle over dukkah.